Shepton Mallet Collett Reunion June 1996
On Saturday 8th June 1996 a reunion of the Collett clan took place, thanks to Margaret Chadd who organised it.  This took place at Collett Park in Shepton Mallet in Somerset and attracted the interest of Colletts from as far away as Australia and New Zealand who attended the large gathering. 
The actual day of the reunion was chosen to coincide with the annual Shepton Mallet Country Fair known as 'Collett Day' and to celebrate the park's ninetieth birthday.
The parkland and lake originally belonged to John Kyte Collett (1836-1933) who was born in Longbridge House in Cowl Street.  His father, who ran a day school for boys, died when John was just two years old forcing his mother to open a grocery business.  As a schoolboy John was evicted from the privately owned land behind Langthorne House (St Paul's Junior School).  This caused him to vow that one day he would make sure the children of the town had somewhere to play.  John eventually joined his mother and his sister Ann Mary who had moved to Cardiff. 
Once there he set about converting his mother's grocery business into a successful international wholesale trading company.  During this time he did not lose touch with Shepton Mallet and quietly bought field after field which, on 20th June 1906 culminated in him officially handing the land over to the town. 
Three years later in 1909, the park was visited by the Prince and Princess of Wales, later King George V and Queen Mary, who officially thanked John Kyte Collett for his gift.  To show their appreciation, the townspeople elected to honour his memory by naming the park after him.  However, a formal naming ceremony had never taken place, hence the reason for the Collett Reunion in 1996.
The day commenced with a buffet breakfast at the Shrubbery Hotel in the centre of the town.  It was a warm summer day and numerous Collett family trees were displayed in the hotel garden, where everyone mingled and exchanged information.  A number of vintage motorcars lead a motorcade the short distance from the hotel to the park.  The first car carried the Mayor and Mayoress, with the guests of honour John Collett and his wife Esme from Sydney in Australia who were there to undertake the official naming of the park. 
John's family originated in Yorkshire, as depicted in Part 27 – The Yorkshire line, and this was only his third visit to England   During an earlier visit in 1992 he had met members of the town council and it was this chance meeting that prompted them to invite John back to participate in the opening ceremony.  It should be noted that he had no known connection with John Kyte Collett except the sharing of the same christian name, which seemed to satisfy the town council.
Also attending the ceremony that day were Maxwell Amner Collett, his wife Noeline and their son Noel, who had travelled all the way from their home in New Zealand.  Their family is the subject of Part 6 – The New Zealand Line.
Other Colletts present that day included:
Margaret Chadd nee Collett and her husband George, John Brian Collett and his wife Phyllis and their daughter Helen Remfrey, who all feature in (Part 51 – The Lord Mayors of London Line); Neil Collett from Kenilworth whose family line is the subject of Part 15 - The Kenilworth Line; and Gordon Rookledge Collett from Carshalton Beeches in Surrey whose family line is the subject of Part 21 - The Cornwall Line.
Then there was:
Alex Collett from Dartmouth in Devon; Sheila Sewell nee Collett and her husband Donald from Southwold in Suffolk; Robert Collett from Suffolk; Phyllis Collett Tyler and her step-daughter Margaret Collett from Cheltenham; and Rob Collett and his wife from Lincolnshire.
Also in attendance were:
Diana Firmston Williams nee Collett (who is listed in Part 14 – The John Kyte Collett Line) and her husband Paddy from Godalming in Surrey - Diana's uncle was Bernard Collett (Ref. 14O53) who compiled the 1921 Upper Slaughter Collett Family Tree which was deposited in the British Library.  Diana's brother Peter Collett lives in Australia and was unable to be present on this day.  Another Peter Collett and his wife Vera from Oslo were also invited, but again were unable to attend.
Last, but by no means least, was:
Brian Collett from Northampton, accompanied by Philip Goddard his Collett cousin from Swindon (both listed in Part 1 – The Main Line), and father and son David Collett and Barry Collett from Plymouth who feature in Part 2 – The Secondary Line.
The following is a photographic record of the event, starting with the first meeting between Margaret Chadd and Brian Collett following many years of exchanging information through the post.
<![if !vml]>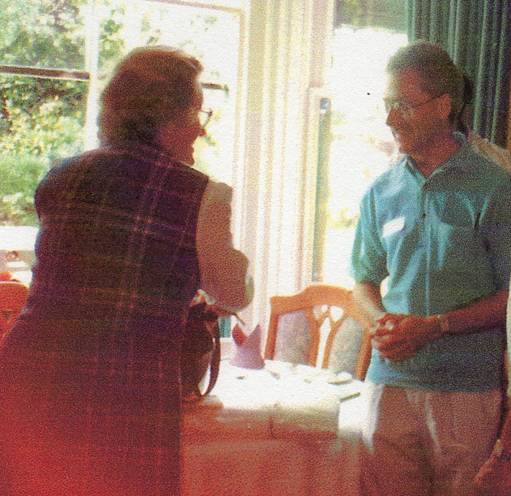 <![endif]>
<![if !vml]>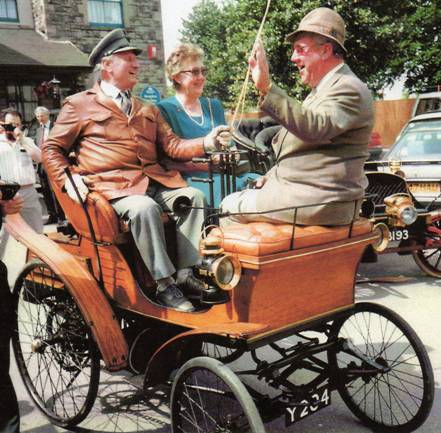 <![endif]>
Esme and John Collett from Sydney
<![if !vml]>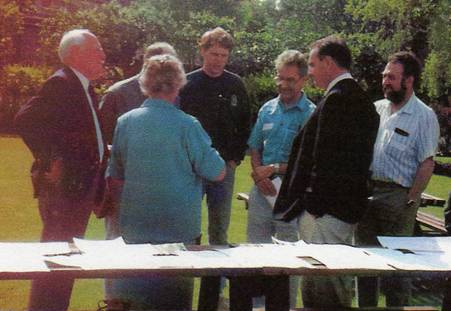 <![endif]>
A collection of Colletts from
Suffolk, Plymouth, Northampton, New Zealand, and Swindon,
discussing the various family trees set out on the tables
<![if !vml]>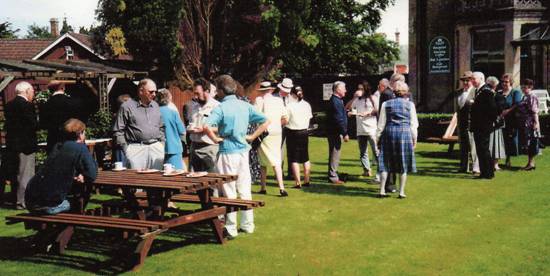 <![endif]>
Mid-morning tea break on the back lawns of The Shubbery
<![if !vml]>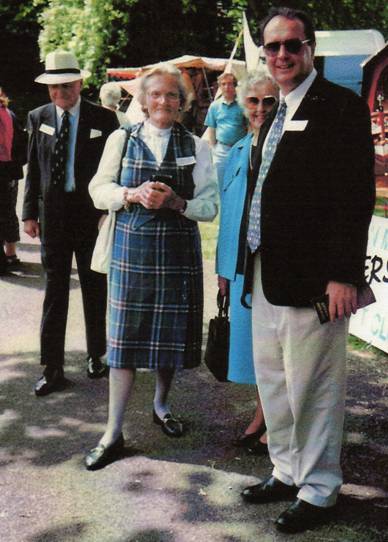 <![endif]>
Margaret with mother and son Noeline and Noel Collett
from New Zealand